We believe what sets Storybook Farm Veterinary Hospital apart from other animal care facilities is our people. We have assembled a great team of caring and talented animal lovers who treat every patient as if it were their own pet. Our team acts as your partner in your pet's care, throughout every life stage. Let's meet our staff ...
Dr. Ann Lill, DVM
Dr. Ann Lill is the proud owner of Storybook Farm Veterinary Hospital. She received her Bachelor of Science in Animal Science from Cornell University and her DVM from Cornell College of Veterinary Medicine. After working in a mixed animal practice for 2 years, Dr. Ann came to work at Storybook Farm, and took ownership of the practice a year later from founder Dr. Bandemer. She built the current hospital facility on Rowley Road in 1985 and opened its doors for business in September of that year. Since opening at this location, Storybook Farm has been an important part of the Victor landscape, serving clients and their pets from Victor and the surrounding greater Rochester and Finger Lakes area. The reputation for providing up-to-date and comprehensive care for domesticated companion animals that grew out of Dr. Lill's commitment and passion has kept the practice thriving as the area around it grew and changed. Dr. Lill has built a team of dedicated and talented staff to help carry out her vision to provide the best care possible for our patients on a daily basis. On her own "farm", Dr. Lill shares her life with many pets and farm animals, and is also very involved with school, Girl Scouts and community activities. She and her husband, Chuck, have 4 children.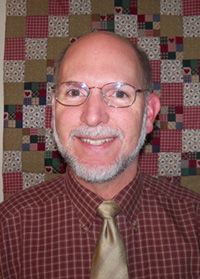 Dr. Earl "Skip" Adams, DVM
Dr. Adams decided when he was 10 years old that he wanted to be a veterinarian. He worked as a kennel kid at the previous Storybook Farm practice site in Bushnell's Basin during his high school and college years. He has been a veterinarian at Storybook since 2001. He has been married to his wife Jen since 1994 and they have six children. They have a small hobby farm with sheep, llamas, alpacas, ponies, chickens, rabbits, cats and a dog. At Storybook, Dr. Adams not only cares for dogs and cats but also exotics such as rabbits, birds and reptiles.

Dr. Stefan Giles, DVM
Dr. Giles came to Storybook Farm Veterinary Hospital in 1990, just after graduating from the College of Veterinary Medicine at Cornell University. He hails from the Southern Tier but loves working and living in the Finger Lakes region. He gained his early animal experience tending to his dad's small herd of beef cattle and raising and showing quarter horses, but opted to practice small animal medicine once he got out of school. He likes the variety of cases that come through the door daily at Storybook Farm, and appreciates our knowledgeable clients who don't believe everything "Dr. Google" says. He has been instrumental in expanding the hospital's dental services. Away from the office he enjoys traveling (especially to Alaska), golf and sports of all kinds. Dr. Giles has always owned collies and usually has at least one or two running around the house at any given time. He and his wife Kathy have two children.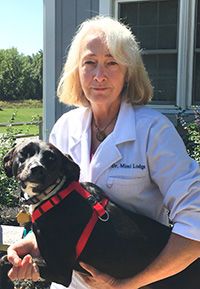 Dr. Mary "Mimi" Lodge, DVM
Born Mary Lodge, Dr. Lodge can't remember a time she wasn't known as "Mimi". She was one of those kids that always knew what she wanted to be when she grew up - a veterinarian. First with an aquarium, then with the "best little white dog a kid could have", then a temperamental chestnut horse named "Gem", Dr. Lodge ended up on the path to the Animal Science department at the University of Delaware. Summers and weekends were divided between kennel work, a race track, and the Heifer Project International's ranch in AK.

Coming to Cornell College of Veterinary Medicine was a dream come true for Dr. Lodge. The broad education prepared her for the 1st four years of her career in a mixed animal practice in Logan, Utah caring for "all creatures great and small". Sadly, there were no dairy farms on the outskirts of Boston, so during the next 2 years she narrowed her focus to companion animals. Dr. Lodge came to Storybook in 1988 and she continues to enjoy small animal care, especially surgery and the concept of wellness care.

More than anything, Dr. Lodge enjoys living in and raising her family in the Victor community with her husband (a professor at RIT) Her 2 kids are out of the house now, so her pet family currently consists of 1 dog and 3 cats, all of questionable parentage, but unquestionable devotion to their humans.
Dr. Karen Smith, DVM
Dr. Karen Smith has been a member of the Storybook Farm veterinary staff since July 1995. She graduated from Cornell University. Her special skills and training in chiropractic care and preventative medicine make her an invaluable member of the Storybook team. Dr. Smith enjoys all aspects of veterinary medicine, especially lab work-ups and practicing preventative medicine. She also enjoys being our tour coordinator and loves introducing young minds to the joys of a career working with animals.

Dr. Smith is very involved in dog agility and obedience training. She currently shares this love with her German Shepherds. In her free time, she also enjoys spending time with her friends and being outdoors hiking and exploring area trails with her dogs.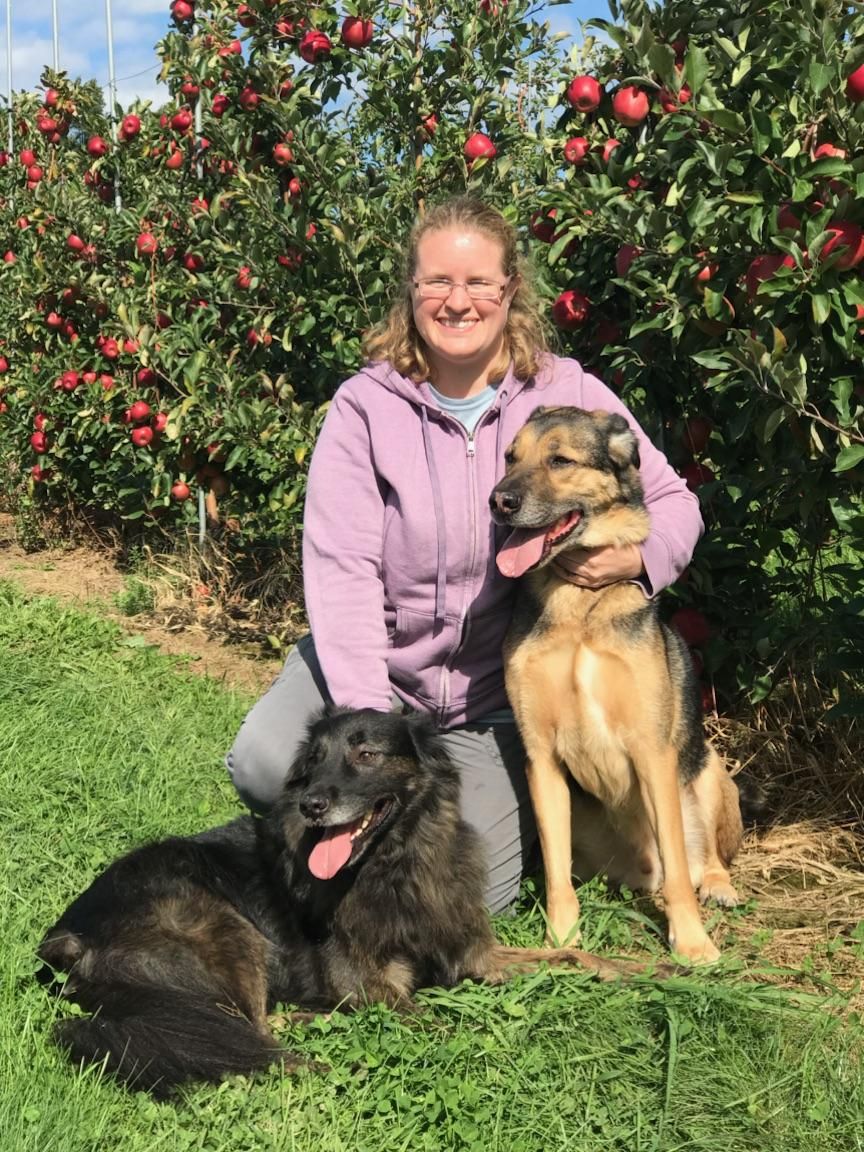 Sandra, LVT​​​​​​​
Sandra has been a veterinary technician since graduating from Medaille College in 2002. She has always wanted to work with animals since she was young. Sandra worked at Storybook Farm after graduating from college for a year, then after 13 years at another practice, she returned in 2016. Sandra enjoys educating clients about preventative care for their pets and working with exotic species. Sandra lives in Greece with her husband and daughter Lorelei. They have 2 dogs, Pete and Stryder and 5 cats. Sandra and her family enjoy hiking, bird watching, nature and they love to travel.

Nataleigh, LVT
Nataleigh has worked at Storybook Farm as a Licensed Veterinary Technician since 1996, after graduating from SUNY Delhi, where she earned her degree in Veterinary Technology. Nataleigh loves assisting in surgery, especially administering and monitoring anesthesia, and following up on surgical cases - answering post-op questions and concerns that owners may have. Nataleigh enjoys walking, spending time family, and is pursuing her Real Estate License for fun. She and husband Mike share their home with their 3 children, dog Maddie and two cats, Jax and Benson.
Tracey, LVT
Tracey started working at Storybook in 1986 as a kennel assistant in our boarding facility. She managed the kennel for 2 years prior to attending SUNY Delhi to receive her degree in Veterinary Technology in 1997. Tracey also holds a bachelor's degree in biology from SUNY Oswego. In addition to working as a Licensed Veterinary Technician, she is responsible for purchasing and inventory of hospital supplies. Tracey lives with Owen, a Golden Retriever, Finley, a collie, and Emmitt, an orange tiger cat.
Christa, LVT
Christa has been a Licensed Veterinary Technician since graduating from SUNY Delhi in 1990; she joined the Storybook team in October 1991. She grew up on a dairy farm in western New York, and spent many hours tagging along after the vets who frequented the farm. Christa and her husband, Dan, have three girls (Elizabeth, Rebekah, and Lydia); a yellow Labrador (Marcie Rose); two cats (Pearl Jam and Hazel Nut); and a flock of happy chickens. Christa enjoys gardening, camping, hiking, and snowshoeing.
Kelly, LVT
Kelly started working at Storybook Farm in May of 1988. She is a Licensed Veterinary Technician, with a degree from SUNY Delhi. Kelly has three boys and two dogs. She loves outdoor activities and spending time with family and friends. Kelly also enjoys gardening and cooking in her spare time.
Kiley, LVT
Kiley graduated from SUNY Canton in 2016 with a degree in veterinary technology. She started working as a Licensed Veterinary Technician for Storybook Farm shortly after graduating. Kiley was raised in Victor and still lives here with her two dogs, Tino and Troy, and two cats, Maggie and Gracie.

Linda, LVT
Linda began her Technician career later than most. After raising her 4 children, she decided to pursue her first love - veterinary health care. She worked 2 years in the kennel at Storybook Farm, developing animal handling skills and observing the work of the Doctors and Technicians. Linda returned full time to the college scene at Alfred State in 2001, then rejoined the Storybook Farm staff as an Licensed Veterinary Technician in 2003. Besides the direct interaction with her loveable patients and their families, she does double duty as the hospital Business Manager, handling a variety of behind-the-scenes tasks that keep Storybook Farm running smoothly.
Our Office & Reception Staff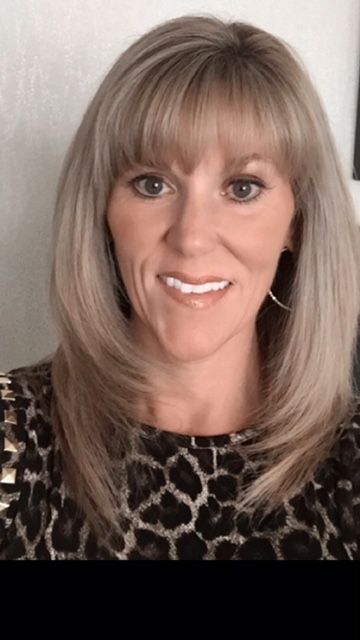 Kathy
Kathy is a licensed veterinary technician and earned her degree from SUNY CANTON. She also has a Bachelor's degree in Biology from St. John Fisher College. Kathy has worked at Storybook in some capacity since 1989, and is currently the Business Manager. Kathy lives in Fairport with her husband Mike, their Cavalier King Charles Spaniel Vinnie and a cat named Poofy.
Kristin
Kristin joined the Storybook Farm team as a receptionist in June, 2009. She currently resides in Penfield with her husband, Brent, who is a teacher in the Rush-Henrietta School District. They share their lives with multiple cats and two dogs, a Sheltie named Wyatt and a mix named Hazel. In their free time, both Kristin and Brent enjoy walking and hiking.
Kathy
Kathy joined the front desk staff in September of 2015. She has a degree in Animal Science and a background in writing and communications, which she uses behind the scenes to oversee Storybook's website. Kathy and her husband have 2 kids in college and two dogs and cat at home.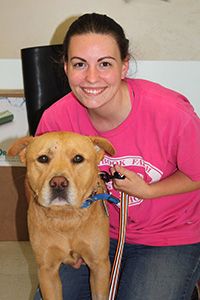 Teresa
Teresa has been a member of the kennel staff at Storybook Farm since 2015 and became Kennel Manager in 2016. She shares her home with her husband, young daughter, Jaiden, and a multitude of pets including 2 dogs (Sandy and Ghiblet), 6 cats and a number of small exotic animals. When Teresa is not working, she enjoys spending time at the barn, as well as hiking and camping with her family.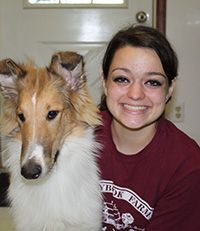 Holly
Holly is a student at St. John Fisher College and has worked at Storybook Farm since she was 14. In addition to her kennel duties, Holly assists in appointments and lends a hand in the treatment area when needed. She enjoys music and drama, and spends much of her free time training her collie, Flame.
Dyllan
Dyllan is a young lad from Fairport who is pursuing his undergraduate degree and lifelong ambition to become a vet at Binghamton University. He fondly names the crowning moment of his life as the time he winked at his dog, Willow, and she winked back. It was with both eyes, of course, but a big moment nonetheless. In his free time he enjoys quizzically staring at books, caring for his endless collection of small animals, and desperately trying to grow things in his garden.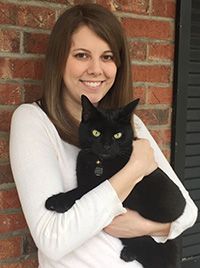 Julie
Julie is a veterinary assistant who has been at Storybook Farm since 2009. She currently attends Cornell University College of Veterinary Medicine. Her interests include small animal and exotic animal medicine. When not working, she enjoys spending time with her two black cats, Binx and Nova.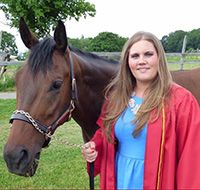 Shannon
Shannon has worked as a kennel attendant at Storybook Farm since July 2012. A 2015 graduate of Fairport High School, Shannon is now at SUNY Geneseo studying biology and minoring in Spanish. She aspires to attend veterinary college after graduation. Shannon owns a retired racehorse named Una and in her free time she enjoys horseback riding, snowmobiling and volunteering.
Dr. Herbert Bandemer, DVM
Dr. Herbert Bandemer, affectionately known as "Dr. B", was a treasured member of the Storybook Farm family since he founded the hospital in 1960. Dr. B provided a valuable and much-needed service caring for both pets and their owners in the growing suburbs South and East of Rochester. Dr. B, a World War II veteran, passed away on October 7th, 2008, but remains beloved by the public for his many years of caring professional service as well as his past involvement in various groups and organizations. He and his wife Dorothy, who passed away in 2016, were active members of the Victor and Canandaigua communities.

Jeni
Jeni was a wonderful employee at Storybook for many years. She passed away May 15, 2009 after a 5 year battle with cancer. Jeni's memory will live on in our hearts and minds and the beautiful memorial garden we have planted on the grounds. Her smile and bubbly personality will never be forgotten.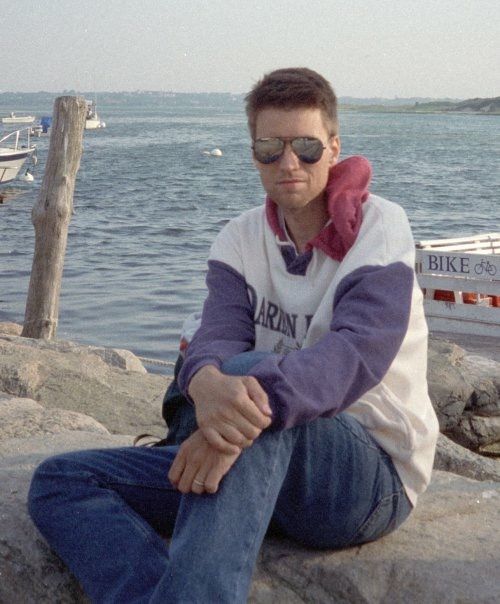 Bill Decoste
Bill Decoste started working for Dr. Bandemer in 1981 at the original location in Bushnell's Basin. When Dr. Ann Lill purchased the business in 1985 and moved the hospital to its current location in Victor, Bill continued his employment. He was a valuable employee for many years during his high school and college career. Bill attended Cornell and then Vanderbilt University where he earned his law degree. Bill practiced law in many NYC firms before opening his own firm. He lived in New Jersey with his wife and 3 sons. Bill kept in close contact with many current and former Storybook employees and he never lost his love for the hospital. His dedication to Dr. Bandemer, Dr. Lill and the many lifelong friends he made will never be forgotten. Bill passed away November 3, 2016 after a long illness.
Follow us on Twitter!