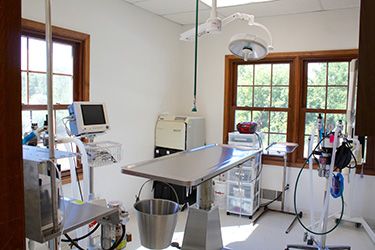 Storybook Farm Veterinarians are well-equipped to perform a wide variety of surgical services for our patients. These range from elective procedures (spays, neuters and declaws) to major abdominal surgery, tumor removals and select orthopedic services. When needed, we can refer you and your pet to an appropriate specialist. We use the most current anesthetics and monitoring of vital signs to ensure our patients have a safe anesthetic experience.

A physical exam is performed prior to surgery, and pre-anesthetic blood testing is done to evaluate the internal organ functions of your pet and can help determine if your pet has any significant anesthetic risks. Pre- and post-op pain medication is given with almost every surgery to ensure the comfort of your pet. A staff member would be happy to discuss any surgical procedure or pre-anesthetic testing with you prior to scheduling.​
Follow us on Twitter!